It's common for employees to think the human resources team is only called on when something goes terribly wrong or an employee is getting fired.
In reality, there's a long list of functions that HR is responsible for. HR serves an essential role in the health of any company. Without a strong human resource management strategy, your company could be subject to talent shortages, disgruntled employees, and more.
What is human resource management?
Human resource management (HRM)  is the process of recruiting, hiring, and managing employees. It's designed to maximize employee performance and happiness while working toward accomplishing an organization's overall strategic goals.
Put simply, HRM is all about managing people to achieve better long-term performance within an organization. It's typical for human resources to utilize HR service delivery tools to assist with day-to-day responsibilities. This overall strategy is sometimes simply referred to as HR.
For instance, when hiring specific individuals to join your team, HR's goal is to find someone who fits within the culture so that they stay with the company long-term, they feel happy and fulfilled in their role, and are productive with their day-to-day responsibilities.
HRM is all about employee management, with an emphasis on employees being assets of the organization. It's common for HRM to be confused with Human Capital Management (HCM). But while HRM builds and manages the systems related to how an employee can do their job well, HCM works towards getting the maximum ROI from a company's employees.
Those working within HRM focus on hiring the right team members, managing workforces effectively, and optimizing productivity. In contrast, the team within HCM views their employees as a means of capital, meaning they understand the importance of investing in employees so their organization can grow their capital in the future.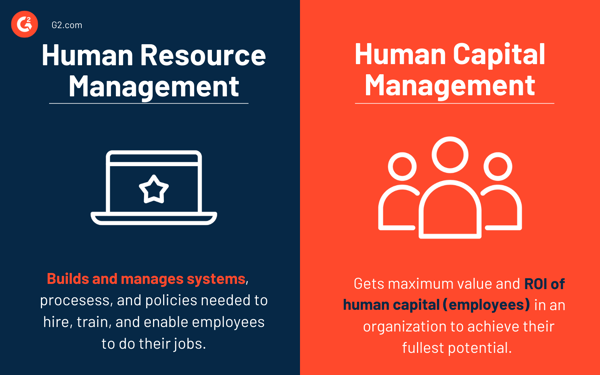 The importance of human resource management
Effective human resource management is crucial for organizations of all shapes and sizes. It's up to the HR department to provide the tools, training, knowledge, talent management, and legal advice to sustain the company for the long haul. 
HR teams need hard skills to handle everything from legal knowledge to soft skills for communication and conflict management – because there's nothing HR doesn't have a hand in. HR management is an all-encompassing job that interacts with every single department within an organization.
With the correct human resource management in place, a company can mitigate pitfalls like:
Hiring a candidate that is the wrong fit for the job
High employee turnover and resignations
Labor law disputes and litigation
Employees suffering from job burnout
Undertrained staff
HR compliance issues or fines
Because there's so much that an HR professional is responsible for, getting human resource management right is a big part of a company's overall structure. 
How does HRM work?
At the end of the day, human resources management only works with a dedicated team of HR professionals who can execute the day-to-day responsibilities effectively. An HR department will consist of various types of HR professionals. Entry-level positions include HR assistants, associates, and coordinators, while mid-level roles include HR generalists and information specialists. There are also upper-level or more senior HR roles, like a talent acquisition manager, business partner, and HR manager.  
The overall size of an HR department depends on the industry, the organization it's within, and the number of employees there are to manage. There are many HR certifications that an individual can take as they get more work experience to help them climb the HR ladder and seek higher job titles.
Additionally, the overall role of someone within HRM, or a Human Resource Manager, can be broken up into managerial, operative, and advisory categories. For instance, the managerial aspects deal with forecasting the demand of employees an organization may need and evaluating the performance of other employees. Meanwhile, operative functions include recruiting candidates and making sure employees have the skills needed to do their role effectively. Finally, advisory functions are commonly managing the policies and procedures throughout a business.
11 functions of human resource management
No matter the size of an organization, there's a lot that goes into HRM. Those who work in human resource management will experience 11 main functions within their role. 
1. Recruiting and onboarding
One of the critical functions of human resource management is to source candidates that fit the necessary criteria laid out in the job description for each open role, which is the act of recruiting candidates to join an organization. HR managers play a part in every stage of the recruitment process, including managing the recruiters within their team. When an organization uses external recruiters to find top talent, the HR managers coordinate with that team to ensure candidates are a good match for the company. 
Just like having a highly effective recruitment strategy is key for attracting new talent, knowing the right way to conduct onboarding once they start is crucial to set them off on the right foot. The onboarding process, which is how a new employee becomes familiar with the ins and out of their new organization, begins with the first couple of training days and can extend well into the first few months of employment.
69%
of employees are more likely to stay with a company for three years if they experienced great onboarding.
Source: G2
2. Training and development
Once onboarding is complete and new hires are ready to roll up their sleeves and start working, they will need specific tools and skills for the job. This is where training and development come into play.
Employee training programs can encompass various categories, such as mandatory training modules covering specific issues like sexual harassment or cybersecurity training. These are necessary workshops employees must complete to have essential information and protocols needed for situations they could encounter at work.
Employee development consists of programs designed to enhance an employee's specific skill set that applies to their role. A business should offer employee development across all departments. Taking the time to develop the skills of each of your employees and cultivate internal talent is a long-term investment in the company's future and career development as a whole. 
3. Performance management
As an employee performs their various responsibilities and tasks, performance management becomes important for human resource managers. Performance management is how an organization identifies, measures, and develops the workplace performance of each employee, team, and department in support of overall business goals and objectives. 
Continuous feedback and communication between managers and their employees are used to achieve the organization's strategic objectives. It's common for organizations to evaluate the performance of their employees using a specific cycle, which can be quarterly, at every half, and at the end of each fiscal year. These performance reviews involve planning, monitoring, and rewarding employees for their performance.  
The outcome of performance management lets HR managers and department leaders categorize employees as a high versus low performer and having high versus low potential. The performance management element of HR is crucial to a company's success as it identifies who excels and is a good fit within the organization and who underperforms and may not be the right choice for the role. 
4. Succession planning
Succession planning is all about creating a process or strategy for if and when a key employee leaves the company. For example, if one of your sales representatives decides to part ways with your organization, it's a good idea to have a replacement ready. This not only saves time within the requirement process but also money in the long run.
This can be done with a strong talent pool that is created by your HR team or staffing department, which should be made up of strong candidates who are qualified and interested in filling senior roles within your company. 
5. Compensation and benefits 
From attracting top talent to retaining your best employees, having a comprehensive compensation and benefits package is a must for all organizations, and it's one of the most crucial functions of HR management. Fair employee compensation, also known as to how an employee is paid for their work, is key to motivating your team and the retention of key stakeholders within every department. Making a competitive offer can help with the decision process if a candidate is between you and another organization for an open position. 
Employee benefits administration is also an essential part of HR management. This includes non-monetary rewards, like offering unlimited paid time off, a company car or laptop, and flexible work times. The goal of human resources management is to appropriately reward employees in ways that motivate them and make them want to stay within your organization long-term.
52%
of surveyed candidates claim competitive compensation packages are the most attractive element of a job.
Source: G2
6. Employee relations
Managing everything that has to do with employees means there's a lot on the plate for HR departments to handle. Adding to the plate is employee relations, sometimes referred to as labor relations, which encompasses all efforts your company takes to build, strengthen, and maintain the relationships between employees and the employer, which can get a little complicated.
There are bound to be complaints that cross an HR manager's desk, so having a built-out employee relations strategy can help deal with these situations when they occur. Part of HR management is taking the time to listen to employees when they raise concerns or seek help regarding a colleague's behavior or a disagreement with their team lead. There needs to be an atmosphere where employees feel like they can adequately communicate issues or concerns that can help curb resentment.
7. Employee engagement
Employee engagement is another crucial function of human resource management within all types of organizations, which encompasses how connected an employee feels to both their role and the company they work for. When employee engagement is high, the satisfaction and production of all workers are high. When engagement is managed effectively, it can also boost retention rates as staff feels happy with low levels of burnout. 
Managing employee engagement is all about proper communication and listening to the needs of workers across all departments. Afterall, the human resources team knows the ins and outs of how employees really feel better than anyone. 
8. Human Resource Information Systems
Next, we have Human Resource Information Systems, or HRIS, which consists of software that manages employee information as well as the policies and procedures for an organization. These tools consist of many modules to collect and store employee data and assist with payroll, benefits, compliance, and more. 
HRIS supports the majority of the functions an HR leader is responsible for. An understanding of how this tool works and all of its features and functionality is a regular part of the role of an HR professional. 
9. HR data and analytics
While data and analytics weren't always a function of HR's job, being data-driven has become more prevalent over the last decade. Most data and analytics come from using the right HRIS, as it's a data-entry tool at its core. The data within tools like HRIS comes in handy for data-driven decision-making.
HR analytics can be used to create reports that include details regarding employee turnover, various workforce needs, the impact of newly onboarded employees, customer satisfaction, and newly formed business strategies.
10. Health and safety regulations
No matter the type of office the HR department is in charge of, every company wants to provide a safe workplace for its employees. The Occupational Safety and Health Act of 1970 (OSHA) mandates that employers provide a safe working environment for their workers. This is a significant function of human resource management as it's up to the HR team to develop and support safety training and keep a federally mandated log of any injuries or fatalities at work.  
In addition, HR handles any benefits related to Workers' Compensation, in addition to any claims that come in regarding workers' compensation. Various labor laws insist every employer provide the necessary PPE, training, supplies, and the essential information to ensure healthy employees and a safe working environment. 
11. Personal employee support
Finally, the last function of HR deals with personally supporting employees in all ways possible, including anything outside of their professional life that could be hindering their pefromance. 
This may include creating an employee assistance program, helping the team if they run into a personal problem that hinders work performance, or providing medical assistance during a health crisis. If an employee is reaching out for help, HR leaders should lend a hand or listening ear. This function can also include supporting employees as they look towards other career opportunities but are a part of a different department.
You're only as good as your employees
Effective people management is a huge part of a positive work environment and successful company. Many moving parts go into human resource management, but it's possible to solve any issue or challenge that may come through the door with the right HR team.
As you go about mastering these 11 functions, don't forget to work towards a strong company culture that fits the modern workplace.