Matthew Yeates, a Transportation Security Administration officer, helps travelers at the security checkpoint at Salt Lake City International Airport in Salt Lake City on Thursday. (Spenser Heaps, Deseret News)
Estimated read time: 5-6 minutes
SALT LAKE CITY — Lorie Dankers points to an odd assortment of items sitting on a table at the Salt Lake City International Airport as travelers check in at airline gates behind her.
There's a replica Claymore mine next to an airsoft gun, along with a deactivated grenade made into a sculpture of a fly, ammunition, various knives, power tools, a few bottles of hard liquor and what appears to be a toy truck driven by Santa Clause — but is actually a large snow globe. These, Dankers says, are all items that Transportation Security Administration agents in Utah confiscated from travelers trying to sneak them into carry-on luggage at the airport over the past few days.
There's a reason why Dankers, a spokeswoman for the TSA, wants to point this out. Agents end up collecting 500 to 1,000 pounds of seized items every month; and, as Thanksgiving is expected to bring tens of thousands of travelers to the airport daily next week, the agency is looking to remind travelers what they can and can't bring as carry-on luggage.
A busy Thanksgiving
Numbers at Salt Lake City International Airport are already picking up — close to levels before the COVID-19 pandemic, which hit the travel industry in March 2020. Matt Davis, the TSA federal security director for Utah, said security screening is now back to about 93% of 2019 volumes.
"Right now, projections don't have us as high as we were in 2019 but we are very, very close," he said.
Next week is expected to be busier than that.
This Thanksgiving is expected to be the busiest travel holiday since the pandemic, according to AAA travel projections. The association forecasts 53.4 million Americans will travel during the Thanksgiving holiday; most will drive and about 4.2 million people are expected to fly. Aldo Vazquez, a spokesperson for AAA Utah, says nationwide airline travel is expected to be down 9% from 2019 levels, but up 80% compared to Thanksgiving in 2020.
TSA estimates that anywhere from 20,000 to 29,000 travelers will fly out of Salt Lake City International Airport every day next week. Those projections are close to numbers the airport recorded during the Utah school system's fall break, when the new airport ran out of parking spots.
Tuesday and Wednesday before Thanksgiving, as Utah residents travel out to various places, and the Sunday after Thanksgiving, as visitors travel back home, are expected to be the busiest days for outgoing flights. Based on information collected by airlines, Dankers said the busiest times for security screenings are 6 a.m. to 9 a.m. and again from 1 p.m. to 4 p.m. on those days.
Davis estimates that travelers may want to plan on arriving two to two-and-a-half hours ahead of their departure time, to account for possible disruptions, including 20- to 25-minute TSA lines.
"If (travelers) are leaving in the mornings, they should make sure they're giving themselves plenty of time as they transition through the airport — depending on if they are going to check a bag or if they're going to park in one of the lots and shuttle in," he added. "Make sure you give yourself plenty of time."
She says travelers should "pack their patience" with long lines expected at points next week, advising travelers to come earlier to accommodate for delays or any issue that may arise. TSA is preparing for this surge in travelers by having all 16 main checkpoints open, as well as other screening points at the airport. Dankers said TSA expects to be fully staffed for the busy week.
Carry-on or check-in?
One reason TSA officials want people to arrive early is that they see people trying to sneak banned items into carry-on luggage on a regular basis, and that can lead to even more traveler delays and TSA backups — hence the table of confiscated items presented Thursday. Davis said many times people are unaware they even had a banned item until they get to TSA screening. Such behavior has increased this year, as people return to traveling for the first time in months or before the pandemic.
These items end up in TSA hands — and perhaps displayed on a table — because travelers arrive late enough that they didn't want to risk missing their flight by checking in their knives, liquor or snow globes.
"We've been seeing an uptick in firearms that are going to the checkpoint, passengers saying they just forgot or didn't realize it was in there," he said. "Just make sure those bags are clear."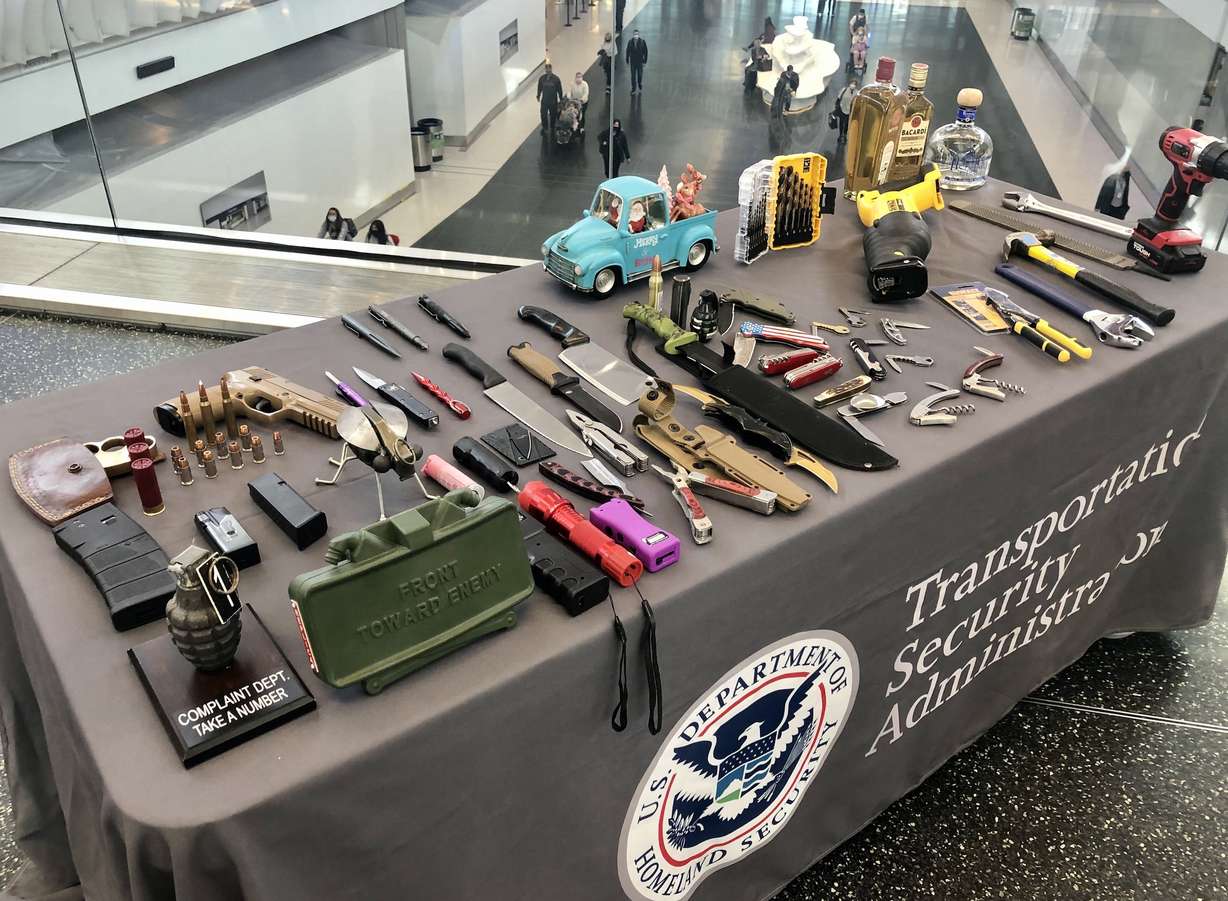 Dankers urges travelers to pack smart. If you aren't sure if something can be brought on as a carry-on item, TSA created a webpage and the MyTSA app for that. Both include a feature that allows people to type in any item and see if it's allowed as a carry-on item, needs to be checked in, or can't be brought in at all. Overpacking is also a problem. If a bag is "overstuffed," this may end in a TSA bag check, she said.
Most of the banned carry-on items are allowed if they are checked in with the airline before going through TSA screening. Firearms, for example, can go on a flight if unloaded, packed in a locked hard-sided container and declared to the airline at check-in.
Dankers adds a holiday-specific tip, too: Don't bring food that has more than 3.4 ounces (100 milliliters) of liquid, the maximum allowed on airplanes. It's an issue that TSA agents run into often because people want to bring a dish with them to the dinner table they are traveling to. Cranberry sauce, gravy, jams, jellies and wines all have to be put in a checked bag and cannot be taken as carry-on. Cakes, pies, cookies, bread or casseroles can, however, be brought on flights as carry-on luggage.
TSA also encourages people to use gift bags instead of wrapping paper for items going through security, either as carry-on or checked luggage. Wrapped items may be unwrapped by TSA agents to ensure it's not a threat.
But masks are the most important thing to bring this holiday season. Much like has been the case for months, masks are required at all U.S. airports and on all flights.
×
Photos
Related Stories
More stories you may be interested in