There's one thing entrepreneurs can all agree on: there is no straightforward path to business success. Starting a business is full of good times, great times, and a lot of tough times – or as Ben Horowitz put it, WFIO (we're f*cked, it's over) moments. 
Some people think you need to have a perfect idea to start a business, but that's not quite true. If you have a team and a commitment, you can figure the rest out along the way.
Making the leap
I had built SaaS companies before in my career, but G2 was different – and in some ways, more challenging. 
G2 started back in 2012, and our vision was to build the "Yelp for enterprise software". At that time, it was hard for business buyers to discover us, and it was way too hard to get consumer insights. 
At my previous company, it took nine years to finally get on a Gartner report and 12 years to become a leader. I knew Gartner's solutions slowed us down, and frankly, it felt unfair that there was a massive moat I couldn't cross for that long. 
Most entrepreneurs don't have nine years to wait for validation. There was a demand for something more "real time," so we looked at what companies like Amazon were doing with user reviews and thought, "Let's just bring that to B2B software."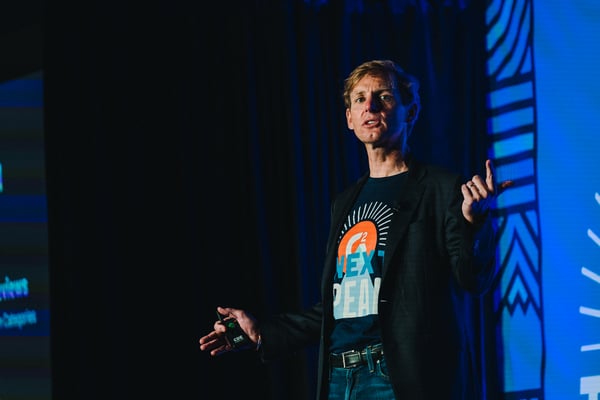 H2 Kickoff in Chicago, IL, August 2021
We launched our alpha site and handed out $5 Starbucks gift cards at Dreamforce to encourage people to leave reviews. Then we went back to our office and turned on Google Analytics. 
I watched as the number of site users slowly increased. I even saw one pop up in Austria and was thrilled to see we already gained momentum globally until I realized that user was my dad. But supportive parents aside, our growth was evident and the proof of concept was being validated right before my eyes – a feeling I'll never forget.
Building a unicorn
In every industry and for every business problem, entrepreneurs are building even more purpose-built apps. The problem for buyers is not accessibility, but that the landscape is too noisy. 
We decided to be laser-focused on building out one software category at a time to get things going. It took three or four months just to rank on Google and get repeat traffic to make us relevant. Despite the setbacks, we persevered. 
My co-founder, Tim Handorf, even refused to get a haircut until we made revenue. It took about nine months and by that time, we joked that he kind of looked like Jesus (it really wasn't the best look on him).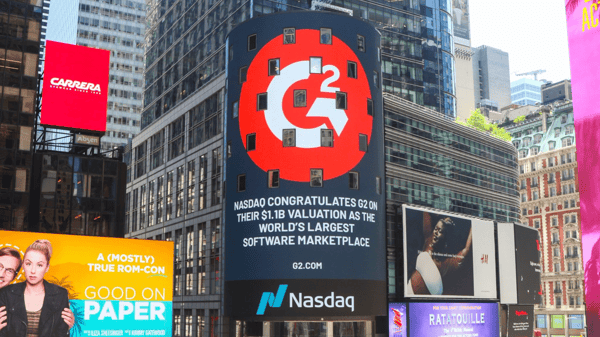 G2 Series D Funding announcement in Times Square, New York, NY, June 2021
The key to success is to scratch your own itch and solve a problem you really care about. There will be times when you think, "Big companies have more resources than I do. Why can't they just build what I have?" 
And there is truth to that. While a big company can put a team of engineers on a project,  it just can't compete with a founding team building a passion-driven product. Big companies don't have the same flexibility and live-or-die attitude as entrepreneurs. But remember you don't have to do it alone. There's a lot of co-opetition in tech. Find your balance and seek out the right partners who can help support your goals.
So I encourage you not to be intimidated by the big guys. What you have on them is agility, autonomy, and best of all, nowhere to go but up.
The next PEAK
Whenever I find myself between business ventures, I feel like I flatline. I miss the highs, the lows, and I even miss the WFIO moments. Entrepreneurship is simultaneously invigorating and anxiety-inducing, but nothing beats the feeling of pride as you watch your business grow and succeed. 
G2 started with one software category. Now we're the world's largest software marketplace with more than 1.5 million reviews. The platform I once handed out Starbucks gift cards for recently raised $157M in Series D funding, giving us a $1.1 billion valuation. 
Passion and dedication are what helped me reach my PEAK at G2. I can't wait to see how you reach yours. 
---
No matter the industry or the size of the business, building a board of directors is crucial. Check out these 6 Lessons Learned in Building Your Board as an Entrepreneur.