Some people collect rocks, others collect baseball cards. You, on the other hand, collect reviews. 
User reviews are an invaluable asset for modern businesses, serving as a resource for product teams, salespeople, marketers, and prospective buyers alike. Reviews help showcase your product and build trust between your brand and the consumer. 
The key to user reviews is consistency. In fact, 85% of consumers consider reviews more than three months old to be irrelevant. This means you can't just collect a handful of reviews and call it quits on your strategy. 
Luckily, implementing a robust review strategy doesn't have to be a headache. This guide will walk you through everything you need to assess, implement, and optimize your review collection strategy.
Looking ahead
In this article you will learn how to:
Evaluate and complete your my.G2 profile
Implement changes to ramp up review collection
Qualify for G2 Reports and Best-Of lists
Review and optimize your review strategy
Review collection 101
It's no secret that brands are in the midst of a crisis of trust with today's consumers. The modern buyer is more socially aware, technologically-driven, and has higher expectations than their older counterparts. This shift in the buyer's journey means that transparency is more important than ever before. 
But what do reviews have to do with untrusting buyers? In a highly connected digital world, consumers are constantly exposed to negative news and reports. This means modern buyers are less likely to trust a company and much more likely to trust their peers. 
Social proof is critical when it comes to building trust with consumers. Authentic feedback and testimonials from other consumers are incredibly important as they help validate product claims for the buyer. 
93%
of buyers say online reviews influenced their purchase decisions.
Source: Qualtrics
And reviews aren't just beneficial for buyers. Companies can utilize product reviews to keep tabs on their current and previous customers' sentiments about their products and experiences. 
Information collected from user reviews can also be shared across departments to drive various initiatives, including: 
Marketing can use reviews to inform value propositions or as trusted assets for campaigns. 
Product teams can collect information from reviews to influence product development and enhancements. 
Customer success can use reviews to check the pulse on customer sentiment.   
Sales can leverage user reviews and testimonials when in discussions with prospective customers. 
Why are user reviews important?
Review collection is an invaluable strategy for every business. Implementing a strong review collection strategy will help:
Build trust with today's wary buyer by providing authentic social proof
Consistently solicit valuable feedback for product development teams
Spread brand awareness and attract different buyer demographics
Buyers compare and evaluate solutions during the decision-making process
Step 1: Evaluating your my.G2 profile
You're likely familiar with G2 product profiles. These are the pages where users can learn more about a product and, most importantly, read and leave reviews. my.G2 is simply the backend admin portal where companies can access their G2 product profile, reviews, content, and data. 
First, it's important to completely fill out your G2 product profile. This is how users learn more about your product on G2, so if there is limited information on your profile, they'll likely move on to another solution. Remember, the more information the better.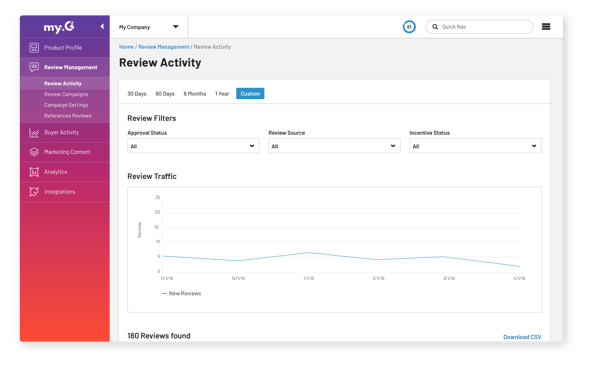 The Review Activity dashboard on my.G2
Profile performance data is important, but putting this information into context is crucial. That's why you can find G2 Analytics all in one place to help you understand how you stack up against your competition. 
Your G2 profile gives you a chance to differentiate from your competitors and convert more visitors into buyers. Once your profile is up and running, you're ready to take advantage of the valuable features of my.G2. 
my.G2 provides valuable insights into your product profile, enabling you to see review activity, filter by approval status, and even respond to reviews. You can then easily export and utilize this information across your entire organization.
Tips for completing your G2 profile
Your G2 profile is the first place potential buyers will go to learn about you. Make sure your product profile includes:
Updated brand logos
An eye-catching banner image
Accurate product descriptions
Current product pricing
Step 2: Implementing changes to ramp up review collection
Once you establish your G2 product profile, there are simple tactics you can use to maximize your user reviews and ramp up feedback collection.
First, rework your messaging. Communicate why a user's feedback is valued and how your business leverages reviews to improve the product. For instance, you can ask users to specifically leave feedback on new product updates or launches. People are more likely to take action if they understand how their feedback impacts both the business and their own experience with the product. 
If you feel your review collection has plateaued, try incentivizing it. Monetary incentives, like gift cards or discount codes, encourage users to take immediate action and leave authentic feedback. 
Next, be sure to leverage all of your current user reviews by sharing them on your website, social media, and other marketing assets. If user reviews helped influenced a product change or development, share the cause and effect of this feedback to your audience. Show users that you take their feedback seriously by responding publicly to both positive and negative reviews. 
89%
of consumers read companies' responses to user reviews.
Source: BrightLocal
However, one of the most important factors for review collection is timing. Leaving feedback should be simple for the user. Meet your customers exactly where they are and provide a seamless user experience by utilizing review levers and integrations. 
Review integrations and levers
G2's review integrations and levers are useful tools brands can leverage to increase the quality, frequency, and number of reviews. Soliciting feedback is already part of your plan and G2 supports those initiatives with integrations and levers that are safe and simple to use. 
The Integration Hub is the go-to place for G2 customers to safely connect their profile with various sales, marketing, and retention tools they already use and trust. G2 integrations help automate workflow to make review collection a breeze.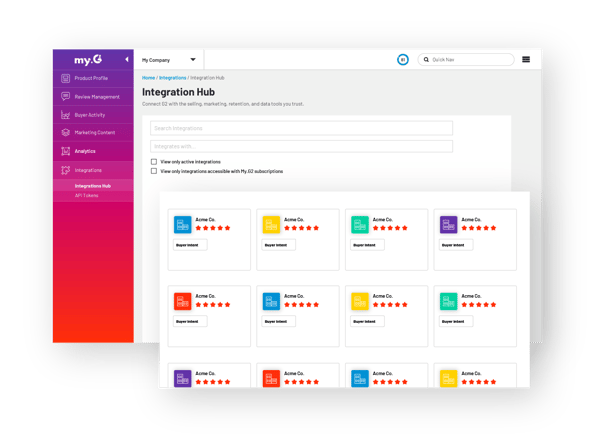 The Integration Hub in my.G2
G2 Review Levers are specifically designed to safely collect more and better reviews. These levers can help fuel your review engine so you can meet your customers in the right place, at the right time. 
In-app reviews: Activate in-app reviews by simply adding a form to your site. The in-app review lever helps you avoid legal roadblocks and protect your customer list.
Drupal widget: Showcase reviews to customers wherever (and whenever) they may need them. The Drupal widget collects G2 reviews and allows for custom placement based on your site's needs.
Automated review updating: Ensure your user reviews are always up-to-date by automating the process of asking users for fresh, updated feedback.
InMail prompts: Enable your customers to answer questions and leave feedback directly inside emails with our InMail prompts. 
Step 3: Qualifying for G2 Reports and Best-Of lists
User reviews possess a lot of power. Not only do they help influence buying decisions and product development, but they also help your brand rank on G2 Reports. But ranking high on reports isn't just for vanity. Your inclusion in reports can heavily influence a prospective customer's purchase. 
Here's how it works: Your customers leave reviews. Those reviews affect how you rank on G2 software reports. Those reports influence other buyers' purchase decisions. Wash, rinse, repeat. 
Below are the four types of G2 Reports: 
Grid® Reports compare products within a particular software category based on satisfaction and market presence scores. 
Index Reports provide a score for evaluating a single factor in the software purchase process, highlighting usability, implementation, relationship, or results. 
Compare Reports feature side-by-side comparisons of up to four competitors based on satisfaction rating.
Momentum Reports

display a product's growth trajectory in their respective category over the last year, based on user satisfaction scores, digital growth, and employee growth.
G2 scores products based on reviews from our user community, as well as aggregated data from online sources and social networks. Our unique algorithm then calculates the Satisfaction and Market Presence scores in real-time. 
Although scoring is different for each report, factors such as pricing information, ROI, results data, user adoption, usability data, feature level data, as well as your Satisfaction and Market Presence scores can affect your rank. 
Tips for qualifying for G2 Reports
Harness the power of your customers' voices with G2 Reports. Here's how you can start qualifying for inclusion on reports:
Fill out your G2 profile with updated visuals and high-value product information like pricing.
Regularly solicit feedback and collect at least 100 reviews on your G2 product profile.
Implement product changes based on user feedback to positively influence future reviews.
Ask for updates to ensure your reviews reflect the most current customer sentiment.
If you're interested in learning how your company can rank on G2 Best-Of software lists, stay tuned! G2 will be announcing how to qualify for our 2022 Best-Of lists soon.
Step 4: Optimizing your review strategy
So you kickstarted a review collection strategy – now what? After you get the basics up and running, you can focus on continuously improving your collection methods and the user experience to make the most of your reviews.
Stay consistent with your strategy
It's important to run regular review campaigns and monitor the activity on my.G2. This will provide you with invaluable insight into your users' sentiment that can help drive product development.
Engage and respond to user reviews so you can establish trust and transparency between you and your consumers.
Improve your user experience
The best way to ensure your strategy works (and continues to work) is to listen and adapt to your users' preferences. Use G2 integrations and levers to make the review process as easy and convenient for your users as possible.
You can also create automatic triggers so your review collection is always on.
Leverage content off G2
Capturing reviews for your G2 profile is valuable – but it doesn't have to stop there. Display reviews or badges on your website's home page, product pages, and testimonial pages. You can include relevant reviews next to demo request forms and other contact pages to boost prospective buyers' confidence.
G2's Content Subscription gives you access to social assets that showcase your profile's star rating and user reviews.
The 4 pillars of review collection
Follow the four pillars of a review collection strategy for long-term success: 
Ask every user for reviews
Solicit reviews consistently
Request updates for old reviews
Respond to reviews and provide customer service
Keep on adding to your collection
After all, a good collector never stops collecting.
Your review collection strategy should operate like a well-oiled machine, only requiring minor fixes to help improve processes. Committing to a set strategy and working to optimize the experience will help you get users to share authentic, marketable feedback about your product.
Not a G2 customer yet? Launch a review campaign built around trust and credibility. Schedule a 15-minute consultation with a G2 expert today.