Ancient Greeks had the God of Messengers, but modern-day companies have the King of Communications – press releases.
Everyone has something to say these days and with modern communication becoming increasingly democratized and within everyone's reach, spreading a message has never been easier.
For organizations, however, communications can be an extremely delicate matter. Covering and distributing news requires careful planning and preparation beforehand. Knowing what topics or stories would pique the target audience's interest can also help businesses control the narrative. 
Media coverage and the press still predominantly control trends in the industry. Companies need to nail timing and precision, and constantly keep a tab of what's trending in the current media landscape. Not only does this help them create impactful stories but it also plays a role in getting their stories past the gatekeepers of the media: journalists.
While media monitoring software helps you track the latest news or trending topics within an industry, there comes a time when a company has its own newsworthy story to share. This is where press releases present themselves as valuable communications tools.
Let's take a closer look at press releases, their benefits, and tips on writing your own.
What is a press release?
A press release is a piece of news or an official written announcement a company issues to media outlets, meant to be distributed to the general public. A press release is also known as a news release, press statement, e-release ('Erelease'), or media release.
Press releases are an integral component of any public relations (PR) and media communications strategy. They're used to spread any news, messages, or announcements that paint an organization in a favorable light to its customers.
In the age of social media, tweets, and podcasts, press releases still hold their own. Press releases can be utilized by any company looking to reach its target audience quickly and effectively.
Tip: The secret to every successful press release is visibility. Press release distribution software helps gain the most media coverage efficiently and with the least amount of effort.
When to send a press release?
Ever heard the saying "one man's trash is another man's treasure"? The reverse also holds true.
Press releases should be utilized whenever a company has something exciting or ground-breaking to announce. However, what may be considered big to you may not necessarily be the same to others. 
Here's how you can decide whether your piece of information is genuinely newsworthy:
Impact: How will this information affect the industry or impact individuals seeking the solution your business provides?
Timelessness: Is this information topical or evergreen? Is the content similar to what's trending at the moment?
Urgency: Is it breaking news? Does it invoke a sense of urgency?
Recall value: Is this news release memorable or has the potential for high recall value?
Impressiveness: How fascinating would this press statement be for the audience? Is it impressive enough for individuals that are not customers but still have a vested interest in your business? (Ex: investors)
A press release doesn't need to check all these boxes, but a strong press release usually contains two or more of these factors.
Types of press releases
Technically, a press release can be about anything a company considers "newsworthy." That said, patterns have emerged with the most common scenarios where press releases work well.
Below are the typical types of press releases:
Funding announcement
Event press release
Charitable initiative press release
New hire announcement
Award press release
Product press release
Rebranding press release
Partnership announcement
Funding announcement
Some of the most popular press releases are ones that announce rounds of funding.
These releases instantly attract eyeballs because customers, partners, investors, and even competitors are naturally curious about which organizations are riding the wave of success. It's a shining moment for companies as well since a round of funding is a testament to their growth and position in the industry.
When writing a press release that announces funding, it's important to cover what that investment will be used for, who helped raise this amount, and what the future holds for the company. These kinds of press statements are usually written in an excited and optimistic tone.
Take a look at how G2 announced becoming a startup unicorn after raising Series D funding in this funding press release example.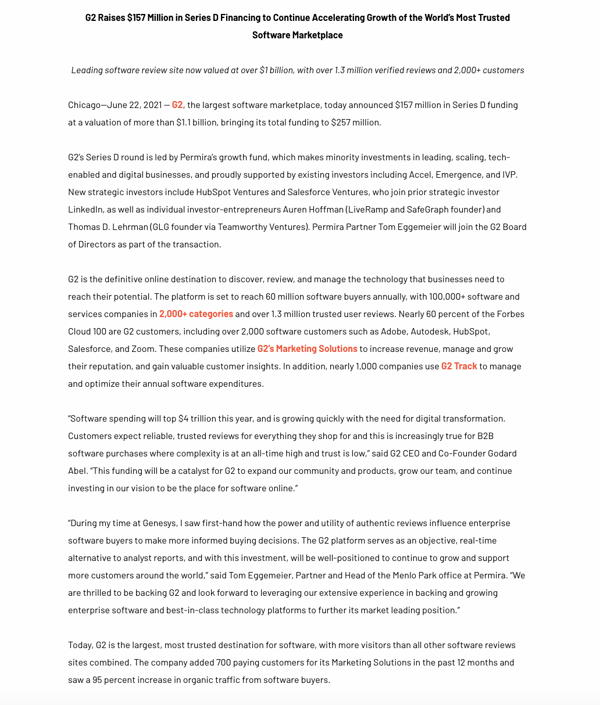 Source: G2
Notice how this press release addresses questions around why the funding was raised and how this money will be utilized in the future.
Event press release
When you throw a birthday party, you send invitations to all the guests, arrange party favors, set a venue, and pick a date. But how would you ensure that everyone comes to the party? You'd likely send out reminders and make some phone calls a few days before the party. 
Events in the business world are like birthday parties. The only difference is that invitees are not as inclined to attend every event they get an invitation for. 
The lack of reminders is not the issue here, with so many reminder emails flooding our inboxes prior to an event. The issue is a lack of interest. People need to be convinced that an event is worthwhile. Apart from varying interest levels, not everyone's schedule is light. People need to plan their schedules way ahead of time before they can commit to a date.
Event press releases are an integral part of an event marketing plan. An event press release promotes a newsworthy event that a company is hosting, attending, or sponsoring. This helps the event gain more traction with people reading about it on channels they value.
Event press releases should also contain all the necessary information like the venue, the featured guests or speakers, the highlights, the pricing, and the date. 
If you're trying to get media members or a broader audience to attend, then your timing is just as important as the press release itself. You want to make sure to give people plenty of notice so they can plan accordingly.
Check out this example of an event press release where G2 announces participation in the Oracle OpenWorld 2019 summit. Not only does this announcement mention G2's presence at the prestigious gathering, but it also talks about G2's charitable intentions and plans for making the most out of the event.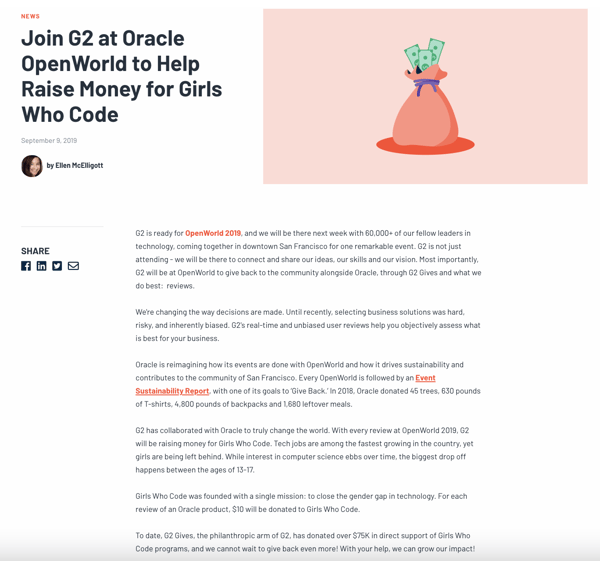 Source: G2
Speaking of charitable initiatives, the following types of press releases can be used to show customers that your company cares about important causes.
Charitable initiative press release
Businesses are more cognizant of how they can give back to society. Charitable initiatives have become increasingly commonplace (and for good reason). Unfortunately, with so many corporations deciding to be more charitable, a vast majority of the public never hears about all the good deeds being done.
A charitable initiative press release is the perfect opportunity to show customers that you care about more than the bottom line. Not to mention, news outlets love to feature feel-good stories that balance out the onslaught of negative coverage.
While this may seem like an excellent opportunity to brag about yourself, tread cautiously. The most effective press releases highlight the company's values and rally others around a good cause.
Take a look at how G2 Gives announced its plans to raise funds in this press release example for OutRight Action International to recognize Pride Month.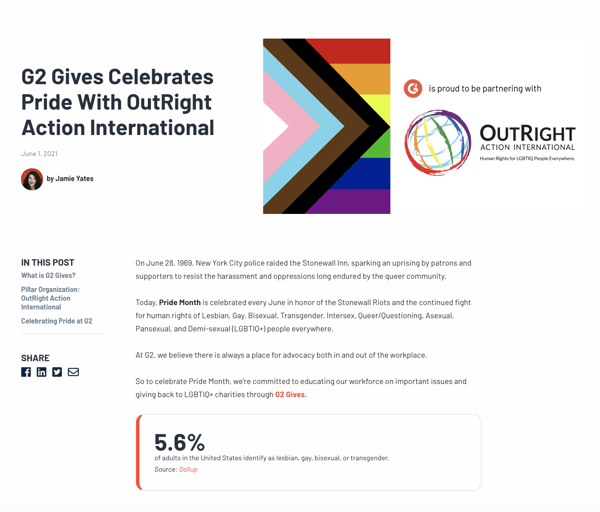 Source: G2
Announcing a new executive hire
While every member of an organization plays a vital role in helping the company move forward, some critical roles act as the face of a business. Senior leadership roles are coveted and highly revered across most industries. Therefore, the announcement for filling these roles also requires some pizazz.
Companies use a new hire press release to announce essential leadership changes. Typically focused on high-level executives, this type of press release summarizes their professional accomplishments and offers biographical information. A photo of the new hire is standard practice.
These kinds of press statements send out a loud and clear message: This is who we've trusted to help take our company to the next level.
New hire press releases show confidence in the leadership team and declare to the industry that the company has hired the best people for the job. If your company just hired a well-known executive from a top competitor, for instance, that's a credibility boost – and a good sign for investors. You can also adopt a similar press release format whenever you've promoted someone from within to a key executive position.
Here's an example of a new hire announcement from DemandGenReport when Amanda Malko joined G2 as the new Chief Marketing Officer (CMO).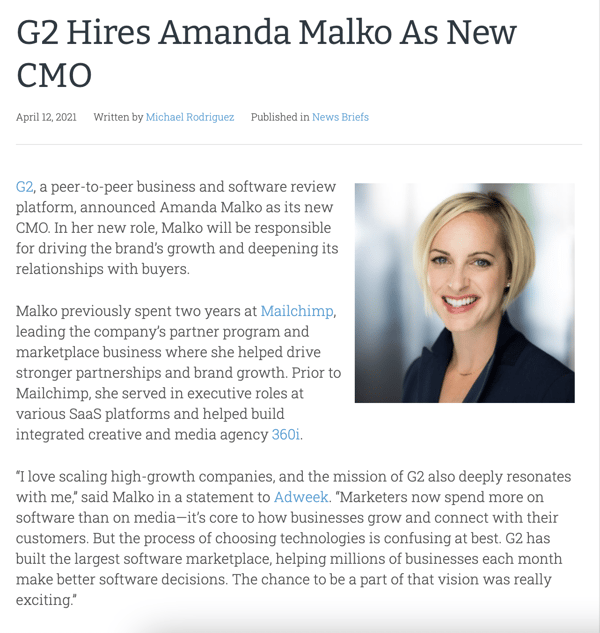 Source: DemandGenReport
Award press release
Every day, someone in the world wins a competition we probably don't hear about. For example, if a local high school football team wins the state playoffs, people outside that state might not even be aware of it. 
Similarly, with prestigious award ceremonies like the Grammys or the Tony Awards, people might not know who won a particular category if they missed the taping. Broadcasting channels that mention all the winners could then enlighten those that missed out on the live telecast.
Industry awards and accolades are standard, but unless your audience is as deeply immersed in the space as you are, it's unlikely they will ever hear about them. An award press release gives you the chance to celebrate your success publicly.  Press releases that detail a company's accomplishments help validate that organization's capabilities and bring in more credibility. 
This kind of press release serves a bigger purpose than just informing the audience about big wins. These announcements can catch the eye of prospective customers in any stage of the sales funnel, investors looking for emerging leaders within the industry, or other businesses looking to build partnerships.
Distributing a press release clues them in and positions you as an industry leader.
Product press release
Even mega-corporations like Apple with legions of fan blogs, forums, and podcasts continue to use press releases whenever a new product or upgrade is launched.
Why? Because these press releases offer just enough details to intrigue journalists. The resulting flurry of media coverage turns the upcoming launch into a spectacle we all get caught up in, allowing Apple to control the narrative surrounding it.
With a product launch press release, organizations can reveal just enough information about their latest solution to scratch the surface and fascinate the audience. While it's a good idea to include pertinent information like the product features, pricing, and other specifications, try to focus on the angle of consumer impact and the value the audience will gain from this launch.
Companies that focus on the benefits of these new features or products (instead of dry technical specifications) motivate the media to pick up their story and run with it. Timing is critical. And since you can't sustain that high interest forever, you'll often see these press releases appear shortly before a launch.
Similar to product launch announcements, product upgrades or expansions are also great occasions for a press release. With these situations, try to explain what changes were made, the reason behind these changes, and why this benefits the audience. 
The key to any product launch or upgrade press release is to emphasize what's in it for the consumers. Since they're the ones that'll be reading this press statement, it needs to appeal to their sentiments first.
Rebranding press release
A new look is a good reason for an announcement. Any change that affects how the organization looks or functions should be shared with the audience. 
Whatever prompts this – whether the change is a new logo or company name, merger or acquisition, shift in product direction – companies need to explain this decision succinctly.
A rebranding press release supplements a broader branding strategy. Organizations are aware that their customers are used to a specific identity. Businesses don't want their audience to get confused during the transition.
Rebranding press releases typically specify what exactly will change (logo, audience served, etc.) and attempt to excite the audience about the change.
Partnership press release
You've been negotiating a new partnership deal for months. Releasing a press release is the perfect way to announce the news once it's finally official.
Each business in a partnership has built a relationship with its distinct audiences. A press release that appeals to both communities will get everyone on the same page. Additionally, a partnership press release helps each brand leverage the other's audience to secure more exposure.
A partnership press release also gives the companies a chance to explain why the decision was made. While it can be a great sign for investors, the purpose of these press releases go beyond being strictly financial. A partnership press release also gets customers excited about the new features, services, or experience they'll gain access to.
Check out this example of a partnership press release that announces the official partnership between G2 and Medallia.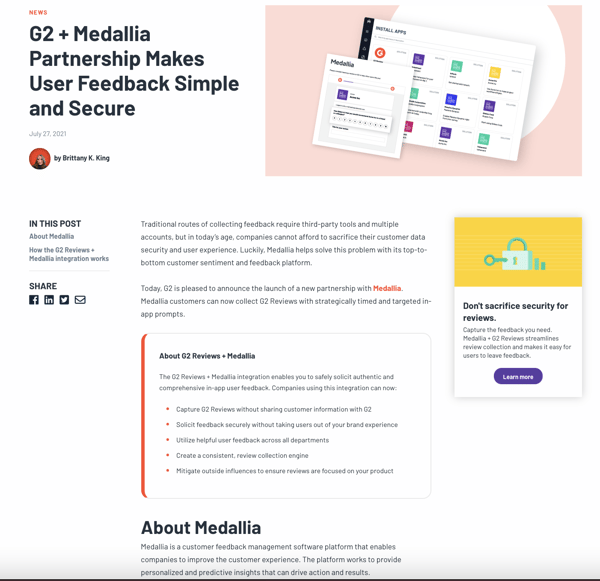 Source: G2
How to write a press release for different occasions
Every type of news release or press statement differs in content and the way it's distributed. While most press releases follow a similar format, it's good to be aware of the factors that differentiate one from the other.
Below are a few ways to write a press release for different types of events and activities.
How to write a press release for an event
Events are time-sensitive, so their press releases must reflect that. This not only affects the content but also the distribution of the press release. Press release distribution services can come in handy during these occasions.
Tip: Having press release distribution software can help companies disseminate any statements or announcements in the days leading up to a big event and seamlessly execute their event marketing strategy.
Keep the following points in mind while writing an event press release:
Give sufficient details about the event: A good host ensures that all the invitees have the correct information about the party, and the same goes for event press releases. Mention details about the event, including the venue, the speakers, the number of people attending, and most importantly, the date. Try to keep it as concise as possible without missing anything important.
Elaborate on the "why": With so many organizations throwing celebratory bashes and gatherings, events have become a dime a dozen. Be sure to stress what makes this event different from the others and how it could benefit the attendees.
Make the most out of visuals: Events are chock-full of photo opportunities. Try to insert photos of the event from previous years or pictures of the event's logo and branding. This helps readers visualize the event or, at the very least, remember your branding so they can associate it with your company whenever they come across promotional content online.
Plan the press release distribution: Time is of the essence when it comes to event press releases. Ideally, your press release should be distributed at least a week before the day of the event. An event press release should be written beforehand and distributed several weeks before the event or sent out immediately. In either case, the following should be mentioned:

Immediate release: If the event is fast approaching and you need the press release to be pushed immediately, include FOR IMMEDIATE RELEASE (all in caps) in the header to let media outlets know that you're ready to publicize the information right away.
Press embargo: If the event is at a later date and your press statement is already prepared, wait to distribute your press release closer to when the event is happening. To ensure that media outlets send the press release at the right time, mention "embargoed until [particular date]" on the release dateline in the header or in the subject line.
How to write a press release for a new hire
New executive hires are a big deal for a company. Let's look at some of the points to keep in mind while writing a press release for a new hire:
Show the new hire's face:

There's a face behind every role in an organization. Attaching an image to the press release allows readers to get a visual reference of the newest member of the leadership team. Press releases with images also perform better since people are drawn to pictures over running text.

Add quotes from relevant stakeholders:

While quotes are a welcome addition in any press release, they're especially vital in new hire announcements. For large corporations, readers want to know the thoughts and sentiments of the executives regarding the new hire. Quotes from the senior leadership are opportunities to showcase goodwill and optimism.

Include the new hire's plans for the future:

While quotes from stakeholders are always appreciated, this is an excellent opportunity for the new hire to elaborate on their plans for the company's future and how they plan to make the most out of this new role. A couple of lines highlighting their vision is a good add-on in this type of press release.
How to write a press release for a new product
Product press releases must balance between being informative and interesting. Like with other types of press releases, the content is around topics the public would be interested in reading about. With a product launch or product upgrade, unless the product was something the audience was highly passionate about, it might not be as appealing to read.
Here are a few tips to keep in mind when writing a product press release:
Keep the consumers at the focus: New products or changes to an existing product are introduced to improve customer experience. The press release should convey the same tone, keeping the customer's wellbeing as the priority and the reason behind all significant changes.
Refrain from being too technical: A press release isn't the place to whip out technical manuscripts. Highlighting the product's capabilities is great, but the average consumer may not know or care to know about the intricacies of the product. If possible, translate the changes into quantifiable benefits.

For example, instead of saying, "An omnichannel BPMN platform that utilizes the Camunda server," the press statement could say, "A business-team-friendly platform that reduces the total time needed to create journeys by 70%."

Feature existing customers: Happy customers are the best measure of success. Having prominent customers give a few quotes about their experience with the new product is an excellent addition to the press release.
How to write a press release for crisis communications
Every business sees its fair share of highs and lows, and PR crises are part of that package. Undoubtedly, press releases are a good crisis communications tool. During and after a crisis, releasing a well-worded statement to news outlets at the right time can help companies rehabilitate their brand image.
Here are a few things to keep in mind while creating a press release for any crisis:
Don't sound too defensive:

No one likes being called out. In case your company is embroiled in a PR disaster, take a step back and think what the correct response should be. A poorly-worded press statement does more harm than good. If the business hasn't made a mistake and wants to clear the company name, try to make the press release sound neutral. Make your case, address any questions or accusations that have cropped up during this period, and end on an optimistic note. 

If the organization has made a mistake, push the message that the company has learned from its mistakes. Keep the tone humble and end on a promise to do better, including the steps that are being taken to improve the situation.

Mention all the facts:

This goes without saying, but organizations forget that the public may not have all the facts available to them. Details about events that occur behind the scenes and away from the public eye should be mentioned in the press release if applicable. 

Submit a response swiftly:

Before people start running media trials online, release a statement that clears the air and prevents any more assumptions or rumors from spreading. A well-timed press release can nip a crisis in the bud.
Benefits of writing a press release
We've already established that press releases are an integral part of any public relations strategy. However, press releases boast more benefits that go beyond simply spreading a message or piece of information to the masses. 
Here are the top five reasons why you need to write a press release:
Create awareness
Build media relations
Increase company visibility
Help manage company image
Low-cost method of spreading a company's message
Let's take a closer look at each benefit.
1. Creates awareness
Press releases are an excellent tool for generating buzz and awareness. Since press releases are a snapshot of key moments in a company's lifespan, it makes sense to use them for marketing purposes. 
Additionally, press releases get much more circulation when more prominent media outlets or journalists pick them up. For startups that don't have a strong presence in the market, getting a press release picked up by a known media outlet is akin to having an A-lister celebrity reshare your social media post. 
Even established enterprises that have steadily built up a presence need to lean on media outlets to push their news across. Journalists can pick up press releases straight from the source (i.e. the company's website or newsroom) and create a compelling story around it.
Media outlets have hundreds of thousands (or even millions) of people in their audiences. Even if only a tiny portion discovers your company through them, it can mean a significant bump in brand recognition – and with brand recognition comes credibility. It has taken decades for media outlets to foster a sense of trust in their audiences. Any organization associated with them reaps some of the benefits.
2. Builds media relations
Journalists are often called "the gatekeepers of media." While social media has allowed people to propagate their own stories, journalists and publishing houses still predominantly control the press. This is why media relations is still a vital pillar of any communications strategy. 
Press releases help foster media relations and create a running dialogue with journalists looking for the next story to cover. In a nutshell, press releases forge a symbiotic relationship between journalists and companies. An organization gets coverage on company-related news and a journalist gets another story to work on. Providing journalists with new stories can kickstart a long-lasting relationship with them and, in turn, the media.
3. Increases company visibility
Like all forms of written content, press releases are great at extracting link juice and ranking for keywords. If a news release contains ample amounts of topical and evergreen keywords, it has a good chance of ranking high up on search engine results pages (SERP).
Suppose a press release gets picked up by a media outlet, either as a separate post or used to elucidate another more extensive article. In that case, it will get backlinks from that outlet's website. Not only is this a great way to gain new traffic from different sources, but it also pushes the press release farther up in the SERP rankings. Search engine optimization (SEO) experts and PR specialists take away a couple of huge wins for themselves and the company.
Beyond the realm of SEO, press releases also help boost a company's visibility in another way. When a publication writes a story about your press release, its audience becomes your audience.
You may already have many customers, but most aren't finding your blog, YouTube videos, or podcasts. Appearing in the media they actively consume – whether it's Forbes or their local morning news on TV – puts you on their radar and allows you to connect with them directly. The same goes for investors or other businesses that might be interested in a partnership.
Appearing in a media outlet can make your otherwise time-sensitive press release a bit more evergreen. If an article written about the press release focuses on the bigger picture, the impact is longer lasting than it would have been with the release alone.
4. Helps manage company image
"Mirror, mirror on the wall, who's the fairest one of them all?"
Having a magical mirror, as seen in the Disney classic Snow White and the Seven Dwarfs, that tells you what's working and what isn't would undoubtedly be helpful for businesses. Sadly, the real world doesn't run on the laws of Disney.
Media monitoring can help organizations with reputation management to an extent, but an organization's public image can change almost overnight. While it's practically impossible to keep a tab on every minute change that affects the way the public perceives your brand (without the help of a magical mirror, of course), it is possible to manage your image and combat waves of negativity on a larger scale.
Press releases are supposed to be factually accurate and portray a grounded view of the organization's ongoings. When media houses pick them up and run them across their channels, the public that consumes their content will consider this an accurate account of events.
A well-worded press statement can influence public opinion and offset any unfavorable news that may affect the business' brand.
5. Low-cost method of spreading a company's message
One of the most significant benefits is that press releases are a cost-effective way to distribute information quickly. This is especially great for small businesses looking at dipping their toes into the PR world.
Your PR department or agency can prepare one statement and efficiently distribute it to a network of media members hunting for fresh content. Most popular industry sites and publications are updated with articles as often as 50 times a day.
It's entirely possible to post a press release on a newswire in the morning, only to have a journalist write and publish a story about it that afternoon.
Challenges of writing a press release
Press releases can do a lot of good. There are, however, a few challenges that come with the territory. Let's look at some of the challenges of writing a press release.
Measuring the impact of a press release
There are many things that can be tracked and assessed when it comes to press releases like circulation, impressions, and SERP ranking. But there is one glaring issue with a press release: measuring its impact on readers.
Sure, you can tell if a press release hits the right notes if you talk to someone who read it and they share their thoughts on it. Even comments online can give you an indication of how people feel about the content they just read and understand the audience's sentiments. But it's practically impossible to discern how a person feels about the press release in real time.
Furthermore, it's hard to associate any gains achieved with a press release. For instance, someone could've read your press release a few months before they entered the sales cycle. Whether the press release was responsible in some shape or form for pushing the prospect forward is difficult to conclude.
Releasing a polarizing statement
Words have the power to build as well as destroy.
Press releases ideally talk about the positives about a company and it's very hard to go wrong with that. However, press releases that are sent out to manage a communications crisis can go either way. 
There are many opportunities for failure in a press release meant to handle a sensitive matter. If the public misconstrues any of the words used in a press release, the business might have an even bigger fire on its hands than it started with.
This goes for anyone that's in a public-facing role. How you present yourself or the organization can affect the public's opinions about the business. Anything that's meant to be seen by the public must be thoroughly vetted before it gets published.
Best practices for writing a good press release
Here are 16 proven tips to help you write the most compelling press releases possible:
Define and set the objectives
Write for journalists, not yourself
Establish the target audience
Be accurate and avoid exaggerations
Keep a regular cadence
Keep the "5 Ws" of journalism in mind
Be newsworthy
Create an impactful headline
Include media contact details
Write a crisp and concise press release
Watch the tone used in the content
Only include relevant information
Stay SEO-friendly
Avoid using technical or industry-specific jargon
Don't make it all about you
Use visual content
While the concept of a press release isn't new, there is a change in how they're crafted today. Typically, a standard press release contains information about an action or event related to the company, a few quotes that cement the organization's proposition, and elements like links, images, and a company boilerplate to add more meat and value to the content.
Understanding the basic elements and format of press releases will take you far. Journalists are more likely to reward you with media coverage when the content you submit is structured to grab their attention.
That said, even the most standard of press releases can stand out if the writer utilizes some industry best practices.
Let's take a closer look at the best practices to follow while writing a press release.
1. Define and set the objectives
There's a press release for every occasion. Naturally, the objective of each press release will differ, so it's important to define goals before writing and releasing a press statement.
Ask yourself, "What's the end goal of this entire exercise?" If the aim is to build credibility or boost awareness, the format and the content of the press release will change accordingly.
When writing press releases, consider what you are trying to achieve. Identifying the goal at the outset is important since you need to plan a different strategy for each release. Even the kinds of media outlets and journalists you approach for each press release will differ.
2. Write for journalists, not yourself
Your press release will go through the journalist's hands before it ever sees the light of day. Try to write keeping their guidelines, writing styles, and objectives in mind. 
Mediapersons see many pitches in a day so try to make your press release stand out with better content, facts, and a unique story angle. Try to keep all the information accessible in the heading and the first paragraph.
If the title and lead visibly include useful details, journalists are more inclined to push it out and give it the press coverage it deserves.
3. Establish the target audience
Your business has a specific target audience. Press releases follow the same philosophy.
Pitching to the wrong person wastes everyone's time and gets you nowhere. Similarly, press releases should be pitched to the right journalists and crafted for the right audience. 
For example, if your target audience is children between the ages of 5-10, writing a news release in the tone of a child might not be the best way forward. Kids don't read press releases, but their parents do. It's important to craft the message in a way that appeals to the parents, even though they aren't the target audience. The content must align with the correct reader base.
Likewise, the bulk of your audience might be consuming content from specific channels. It makes no sense to approach every journalist if your target audience follows the news from particular news outlets or journalists.
4. Be accurate; don't create fairytales 
Like most things that are published online, press releases live on forever on the World Wide Web. It's vital to ensure that any press release being crafted and sent out by a company is, first and foremost, factually accurate and second, isn't an exaggeration. 
In an effort to create a compelling narrative, make sure not to stray too far away from the actual picture.
5. Keep a regular cadence
A regular cadence of meaningful news can help a company stand out and build mindshare with journalists over time. The goal of any content marketing strategy is to publish content regularly. 
While every occasion may not be reason enough to release a press statement, keeping journalists in the loop for whenever something interesting happens goes a long way in the PR game.
6. Keep journalism's "5 Ws" in mind
The key to any good press release is to check if it follows journalism's "five Ws" (who, what, when, where, why). The idea is to raise awareness among the general public. That means covering the "five Ws" of journalism is extremely important.
Here are the "five Ws" of journalism:
What:

What is the newsworthy event your story is covering?

Who:

Who does it involve? Who are key players?

Where:

Where is this story coming from? This information will first be included in your dateline in a press release, with more details potentially included throughout your body paragraphs.

When:

When is this newsworthy event going to take place or when did it happen?

Why:

Why is this important? The why in a press release will compel reporters and media outlets to want to dig in further.
7. Try to be newsworthy
It can be hard to always sound interesting. Here are a few tips to keep in mind to ensure that journalists stay interested in covering your company:
Master the art of newsjacking: We all know that one person who interjects themself into any story. That person is the human equivalent of newsjacking. Newsjacking is a common content marketing strategy and is a clever technique of gaining momentum for a news release.

If there is a piece of news that's currently trending or a post that goes viral on social media, companies can inject their brand if they see an opportunity to tie their story into the larger discussion. This is a great tactic to utilize especially when you're struggling to come up with something newsworthy.

Give an exclusive scoop: Reporters adore getting their hands on something exclusive. Try to provide a story that hasn't been covered before. Even if the story doesn't seem incredibly remarkable, add value to your content with the help of data or research that hasn't been reported by any other media outlet.
Draw out emotions: People love reading about things that give them a warm fuzzy feeling. A story without emotions is just text. Adding an emotional angle to your story can elevate the content. Emotional stories perform more effectively than other stories and gain a higher number of impressions.  Getting people involved emotionally in the business is bound to increase interest in the brand and generate buzz. 
8. Create a headline that reels you in
The press release headline is the first thing everyone will see, so it needs to be flawless. Since headlines can't be too long, they need to convey the message and the impact of the story in as few words as possible.
Here are three key principles of creating a solid headline for any news release:
Use action verbs
Be straightforward and to-the-point
Be detailed and informative
Headline analyzers can help you gauge if a particular title option seems good enough or not.
9. Include media contact details
You need to include your media contact information for reporters to get in touch with you. Include the email ID and phone number of relevant people within the organization that are involved in media communications like the Head of PR, Marketing, or the C-Suite, to give them a point of contact when they want to reach out to the business.
10. Have a crisp press release
Determine what you need to say, and then use the fewest amount of words possible to say it. Press releases are no-nonsense. The body copy should be just long enough to answer who, what, when, where, and why – and leave room for a little intrigue.
Ideally, anything over two full pages is overkill and will not be completely read by the audience. If you can fit everything on a single page, even better. Keep in mind your primary audience — an overwhelmed journalist, wading through dozens of press releases to find their story. On average, they spend less than a minute reading each one. 
The sweet spot for the length of a press release is around 300-to-500 words. Think three or four short paragraphs, a few quotes, and maybe an image. Formatting your press release with bullet points helps divide the content neatly. Tie everything together with an attractive title, and you're golden.
11. Watch your tone
The tone of your press release should mirror the tone you would find in a news article. Stick to straightforward, objective language and focus on the facts.
Even though the goal is to promote your company, you don't want to be overly promotional. Avoid excessive punctuation or bold claims that you can't back up. Using clichés like "best in class" or phrases like "industry leader" should be left out of any press release. They don't contribute to the press statement and are the equivalent of 
Always write your press releases in the third person and avoid words like "me", "we", and "us".
12. Include relevant information
A great press release is a balancing act. It should contain enough information to give your readers a general idea of what's going on, but not so much that they feel like they know the entire story.
A press release typically covers an exciting event so, of course, you want to talk about it as much as possible. That said, try to exercise some restraint. Cover your five Ws, then leave it to the media to share your story.
Remember that you only need enough to give reporters the basics and get them intrigued. They can always follow up with you for more information. Reporters are writers – by leaving room for them to explore the story, you're empowering them to add their voice and style to the final product.
13. Make SEO your best friend
SEO makes certain pieces of content more likely to appear at the top of the results for major search engines. Because so many people are searching online and most modern press releases live on the internet, this is something to keep in mind.
By determining terms or keywords often searched in Google, you can tweak your press releases to make them more likely to be found. This is potentially a great source of exposure – and it's free.
14. Steer clear of industry jargon
Journalists more than likely won't be in your industry. It's easy to throw around terms and acronyms that outsiders wouldn't understand, but that doesn't mean you should.
We can't assume that the media outlets that might cover you understand industry jargon as well as you do – or even at all.
Stick to simple, straightforward language. There is no reason to use "formed a synergistic relationship with XYZ Company to cultivate a superior user experience" when you can say "partnered with XYZ Company to better serve their customers."
15. Don't make it all about you
Press releases that get widely distributed all have one thing in common: They provide their reader value.
Put yourself in the position of a media outlet. Are you likely to write a story on a press release that's nothing more than self-promotion?
With practice, you'll start to weave even seemingly promotional concepts (like award wins and new hires) into a broader context. By fitting it into the bigger picture, a journalist is more likely to see how it would fit into their story.
First and foremost, consider the needs of the media outlets. The easier it is for them, the more likely your press release will be the subject of a news story.
16. Use visual content
A picture says a thousand words. Images will work to your advantage when targeting media professionals with limited time and attention spans. 
Visual elements, like photos, logos, infographics, capture attention and make it easier to digest information. Including them can make the difference between obscurity and widespread distribution.
Press releases for pressing matters
Press releases are more than just an elaborate outreach program. They spread a company's message, highlight its accomplishments and achievements, and are an excellent marketing tool. Marketers who dabble in content should know how to present the business well while also making the organization's activities sound impressive to others.
Press releases form a core component of the media outreach strategy that businesses implement. Like all things in the marketing world, the performance of press releases can and should be tracked.
Now that you know how to write a press release, it's time to learn about making a comprehensive PR plan that works.