Traditional routes of collecting feedback require third-party tools and multiple accounts, but in today's age, companies cannot afford to sacrifice their customer data security and user experience. Luckily, Medallia helps solve this problem with its top-to-bottom customer sentiment and feedback platform. 
Today, G2 is pleased to announce the launch of a new partnership with Medallia. Medallia customers can now collect G2 Reviews with strategically timed and targeted in-app prompts.
About G2 Reviews + Medallia
The G2 Reviews + Medallia integration enables you to safely solicit authentic and comprehensive in-app user feedback. Companies using this integration can now:
Capture G2 Reviews without sharing customer information with G2
Solicit feedback securely without taking users out of your brand experience
Utilize helpful user feedback across all departments
Create a consistent, review collection engine
Mitigate outside influences to ensure reviews are focused on your product
About Medallia
Medallia is a customer feedback management software platform that enables companies to improve the customer experience. The platform works to provide personalized and predictive insights that can drive action and results. 
Medallia captures feedback signals from various sources, including in-person, digital channels, social media, and IoT interactions. The platform puts this data through artificial intelligence and machine learning engines to analyze customer sentiment and provide companies with topics and themes they can act on. 
Companies can use this always-on tool to solicit feedback from users without needing to leave their app.
How the G2 Reviews + Medallia integration works
With the G2 Reviews + Medallia integration, companies can create workflows in their native apps to request G2 Reviews from specific user segments. 
The process is simple: Medallia serves up different notifications and requests while customers are using your app. With this integration, one of the requests can prompt users to leave a G2 Review. 
The user can then complete a G2 Review without having to leave your app or find your G2 profile on their own. Like all other G2 Reviews, the review is submitted to G2.com and published once approved.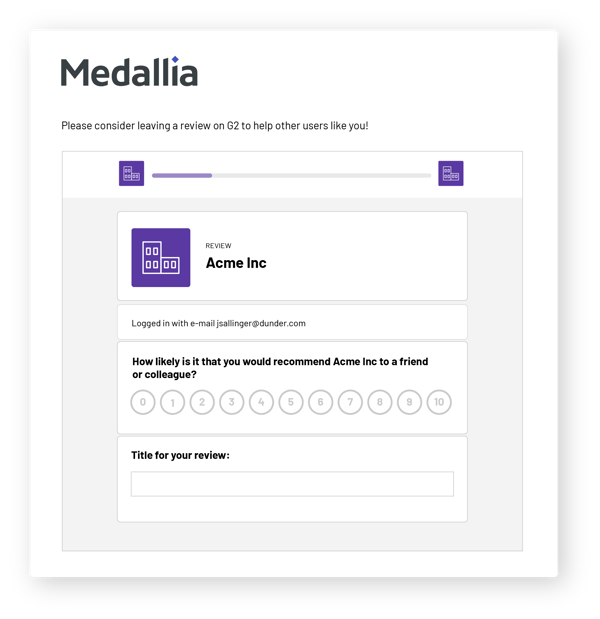 Better customer insights 
G2 Reviews ask customers questions aimed at providing companies with insights to inform every stage of business, from roadmap to retention. This provides all departments in your organization with the valuable information they need to drive adoption, retain key accounts, and identify opportunities for expansion. 
The G2 Reviews + Medallia integration solicits feedback from users while they are using the product. This helps ensure more comprehensive and insightful user reviews that can influence business strategies across all departments.
And since users are much more likely to provide feedback when solicited in-app compared to being asked to take the same action elsewhere, it's a win-win for both you and the user. 
Consistent feedback collection
With the ability to customize who receives prompts, Medallia gives you the power to only solicit your most engaged app users to leave a G2 Review. This means you can target review collection from actual users on a consistent basis over the life of your app — driving higher conversion rates, and higher quality feedback. 
By only soliciting reviews from regular app users, Medallia can help you gain insightful feedback that is both fresh and accurate.
Aubyn Casady, Principal Product Marketing Manager at G2, says organizations can ensure fresh and accurate feedback by soliciting regular app users with this integration. Casady explains, "Finally, Medallia and G2 have partnered to create a solution that makes review collection convenient for everyone, and most importantly, the user. This integration removes the cumbersome steps of creating accounts on multiple platforms and driving traffic to third-party review platforms."
"You can simply meet your users right where they already are: your app."

Aubyn Casady
Principal Product Marketing Manager at G2
Increased security for customers
Collecting reviews from your users while they're in-app is the most effective and secure way to capture candid customer feedback influenced by the experience that matters most: using your product. 
This means you no longer have to sacrifice user experience or risk third-party security issues just to collect customer sentiment. Soliciting reviews in-app also mitigates outside influences from compromising your user feedback, bringing you as close to truly understanding your customer sentiment as possible.
Don't sacrifice security for user reviews
Medallia + G2 Reviews will help you streamline your review collection strategy while making it easy for your customers to submit feedback. This integration allows you to consistently capture quality feedback with strategically timed and targeted in-app prompts. 
Deliver the user experience your customers expect while capturing the feedback you need. Get started with G2 Reviews + Medallia today.