Collecting quality user feedback is challenging, but platforms like Pendo help solve this problem. Pendo is a product analysis app that allows users to easily submit comprehensive feedback that provides product teams with valuable insights. 
We're thrilled to announce the launch of a new partnership with Pendo. As of today, Pendo customers will have the ability to collect G2 Reviews with strategically timed and targeted in-app prompts.
About G2 Reviews + Pendo
The G2 Reviews + Pendo integration enables you to solicit organic, authentic, and comprehensive in-app user feedback. This integration helps you:
Gather comprehensive insights to help influence product development
Meet your customers in-app and eliminate the need for third-party intervention
Solicit higher quality feedback from your most engaged users
Ensure gradual and consistent feedback collection without the need for batch campaigns
About Pendo
Pendo is a product analysis tool that offers NPS surveys, in-app guidance, and feedback collection tools. Product usage analytics and customer sentiment collected by Pendo combine quantitative and qualitative data to help companies make better decisions. 
Pendo can collect data across all desktop and mobile apps and integrate with multiple CRMs to send that data. The no-code in-app tool works to improve your product experience and exceed customer expectations.
Pendo collects valuable customer feedback for product teams to build better product experiences.
How Pendo + G2 Reviews work together
This integration allows companies to utilize Pendo to set up workflows in their native apps and request a G2 Review from specific segments of users. 
Here's how it works: when your customers are using your app, Pendo will serve up different notifications and requests throughout the user journey. With this integration, one of the requests can be "Leave a G2 Review". 
If the user chooses to leave a G2 Review, they can complete the review right there without having to leave your app or search for your G2 profile on their own. Just like all other G2 Reviews, the review is then submitted to G2.com and published once approved.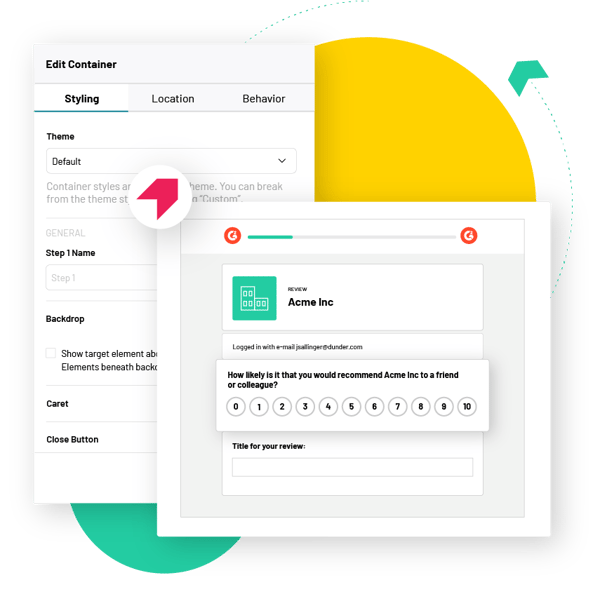 Improved product insights
This integration helps companies collect feedback while the product is top-of-mind for the user that, in turn, can be used to drive important product decisions.
G2 Reviews capture an array of answered questions to help inform product development. All of this user feedback can also provide marketing, sales, and customer success teams the insights they need to drive maximum adoption, conversion, retention, and expansion.
Higher quality user feedback
Pendo uses pre-building engagement-driven workflows to ask specific customer segments to take certain actions. This means you can choose to only solicit your most engaged users to leave a G2 Review.
This feature helps you collect higher-quality reviews from actual users that are consistently spread out over the lifetime of your app. Pendo's in-app prompts consistently solicit feedback from people who actually utilize your platform.
Rachel Bentley, Director of Product Management at G2, says that soliciting reviews in-app is the best way to ensure quality feedback. Bentley explains, "Make it easy for someone to leave you feedback…you need to catch them at the right time and place when they're actually using the product. Ask users to leave reviews consistently and in the moment."
"The most convenient time to ask the user for a review is on your platform while they're using your functionality."

Rachel Bentley
Director of Product Management at G2
Optimal timing for customer sentiment
When collecting user feedback, finding the balance between providing a convenient user experience without compromising the consistency, quality, and effectiveness of that feedback can be challenging. But by meeting your customers where they already are — in your app — you can secure the authentic feedback you need from the right users, all the time, without even asking them to abandon their workflow.
But how well does it work? According to Pendo, users are twice as likely to give feedback when they are solicited in-app rather than by email. This helps ensure your user feedback is candid and influenced by your product and your product only — and there will be twice as much!
With this integration, users no longer need to hop from platform to platform just to leave feedback. Asking for reviews in-app helps mitigate outside influences, like third-party sites, from compromising your user experience. In-app feedback is the closest you can get to truly understanding your customer's sentiment.
Meet your customers where they are to capture feedback
Pendo + G2 Reviews helps streamline your review collection strategy and makes it easier for your customers to submit feedback. This integration enables you to consistently capture quality reviews so you can focus on product innovation.
Capture G2 Reviews by meeting your customers where they already are: your product. Get started with G2 Reviews + Pendo today.