As humans, we want to make the most of every day and every dollar we spend.
We take time to consider options before making a decision and in the process of learning what we love, we encounter other people with similar values. These people become our circle of trusted peers we look to for advice on important decisions. 
Business to business purchases are no different. Before investing in a new product, companies undergo an elongated decision-making process. Part of that process involves reading reviews from existing customers. Decision makers from businesses of similar sizes and industries who hold similar values can count on one another for insight on what they like and dislike about a product – even if they don't know each other personally.
While businesses could, in theory, directly ask each other for this information, customer review sites make this process seamless. Customer review sites are helpful resources where businesses can access these insights in a single place for any product they may be considering.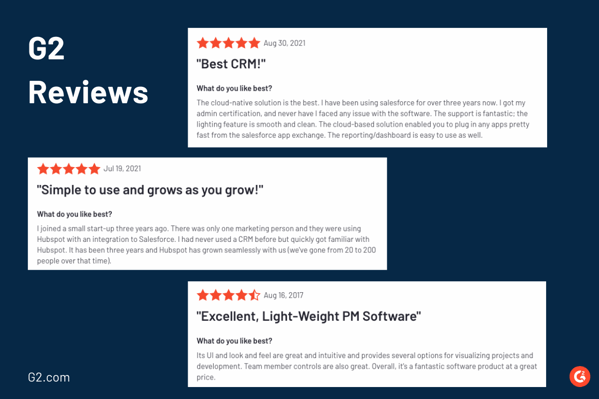 Who benefits from online reviews?
Any business can benefit from customer reviews. The feedback that user reviews provide to sellers, as well as the insight they contribute to buyers, is unmatched. However, in the B2B buying world, they hold a bit more weight. 
There's a lot more at stake when investing in a solution for an entire organization including higher costs, more stakeholders, and a longer decision-making process. 
The following organizations can especially benefit from leveraging online customer reviews:
SaaS companies: There are seemingly endless options for B2B every software type. Reviews can act as a customer's buying guide.
Sellers of offline solutions: When equipping an entire office, businesses want to ensure they get the most reliable hardware on the market. Users of those products can provide that. 
Agencies: When choosing an agency, organizations want to gain insight from previous customers to make sure the agency can fit their specific needs. 
The value of customer review sites
Good news: there are designated customer review websites that exist to help make your business look good and create more visibility for your products. Even better, you can statistically expect to gain more revenue once you claim your profile on those sites.
Software marketplaces gather reviews from SaaS products in distinct categories, determine rankings based on customer satisfaction and usage, and offer that information to buyers. 
Here are a few other reasons why building a presence on customer review sites like G2 is beneficial for business.
More exposure
It may seem counterproductive to put effort into a review platform that displays your competitors right next to your own profile. Why would anyone want their rivals listed on the same page with testimonials that potentially make them look good? 
Think of it this way: a buyer may need a product like yours, but may not know about your business. The buyer will likely conduct a generic search for your product's software category and discover your solution.
Focusing on online reputation management and building your profile on product review sites increases your chance of generating leads on review sites. 
For example, say you have a project management software product called Clipboard. If buyers aren't aware of your business, but know they need to improve their project management strategy, they may search for "project management software". If you have a solid presence on software review sites and have generated your own customer reviews, you can increase conversion rates from the software marketplace to your website and down the sales funnel. 
More social proof
Most buyers have a go-to review site they trust to help them make purchase decisions. And if your product isn't on it, you miss the chance to provide the social proof needed to secure those buyers' business. 
Social proof is vital to buyers when deciding whether or not to purchase a product. If you fail to generate any software reviews on relevant sites, customers will look elsewhere for that information. This sacrifices your control over how your business is being portrayed. 
Social proof can show up in other locations, as well. When you generate reviews on external sites, you can use rich snippet schema markup to display those reviews when your website appears on the search engine results page (SERP). 
More website authority
Vendor profiles on review sites include a link back to their website. Earning links from reputable review sites helps establish more authority for your online presence.
If search engines trust the review site, and they likely do because of relevant and extensive content, then that link shows your site is worth referencing. This passes equity over, giving your brand an advantage in search engine optimization (SEO) and organic search.
More insight
Typically, businesses use customer review sites to generate leads and convert them to buyers. Companies can even leverage it to gain information on potential leads. However, there's even more obvious value for businesses in customer reviews: the feedback. 
Converting prospective buyers into new customers after they visit your profile on a review site is a big win. However, it's important to not overlook feedback from existing customers. Gather those insights and use them to improve your products, buying process, and customer experience. Take your customers' reviews into consideration. After all, you shouldn't focus on generating new business if your current customers aren't happy.
Customer review sites also offer insight on how your product compares to your competitors in terms of features, pricing, and market share. If another vendor has twice the amount of reviews as you, and the content is more recent, then you need to rethink your review collection strategy. 
And lastly, customer reviews can help fuel your content marketing strategy. You can analyze reviews, pick out common themes, and create content surrounding those topics to educate customers on recurring ideas.
More opportunities for customer feedback
All data is good data. You want to collect all of the information possible to make your product, business, and customer experience pleasant and rewarding. When you invest in your presence on customer review sites, it opens more avenues for customers to give you the feedback you need to maintain relationships. 
Let reviews do the work for you
The more present you are on review sites, the more people will talk about your product – plain and simple. Those conversations create helpful content for in-market buyers looking to make a purchase. 
The more high-quality reviews you can produce, the more context buyers have to help them take the next step in the buying process. Review sites offer the perfect platform to host those discussions.
Claim your G2 profile and get seen by millions of people who research, compare, and buy software on G2's marketplace each month.